October 16-18, 2020 – GO Outside Festival
GO Fest will be different in 2020, but a good time is definitely going to be had by all.
Look for outdoor experiences spread throughout the Roanoke Valley to minimize large crowds. And then we'll all come together and join Andy Frasco & The U.N. for two nights of pod-style partying at Rivers Edge Park to benefit the great outdoors.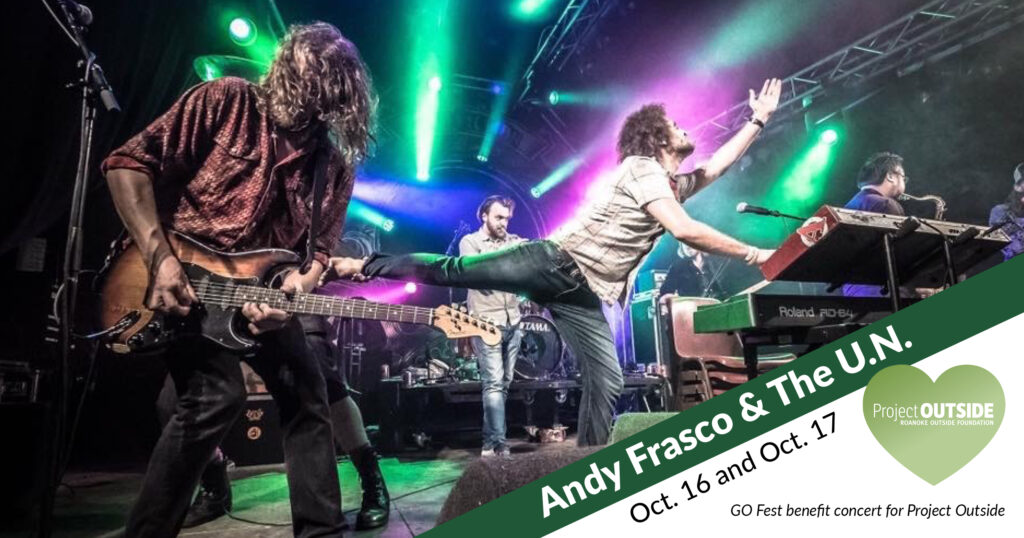 Plan Your Weekend: Discover hikes led by the local Appalachian Trail Club, demo mountain bikes at Waid Park, SUP at Explore Park, try yoga in Elwood, run a 10K trail races at Carvins Cove, and more. Check out our schedule for a complete list of activities.
Party With Andy: Our pod-style, outdoor concert gives you dedicated space for you and five other friends (6 total). Once in your assigned pod, you only have to leave for the bathroom. Order food and beverages via a phone app and a dedicated runner will bring it to your pod. Andy Frasco & The U.N. will play two nights, October 16 and 17. Buy Tickets Now.
GO Fest Benefits the Outdoors: Proceeds from all GO Fest events go to Project Outside, a community fund created by businesses, governments, and individuals to support outdoor capital improvement projects, maintain key outdoor assets, and help launch and support businesses in the outdoor sector. Our goal is to raise $100,000 with this year's GO Fest.