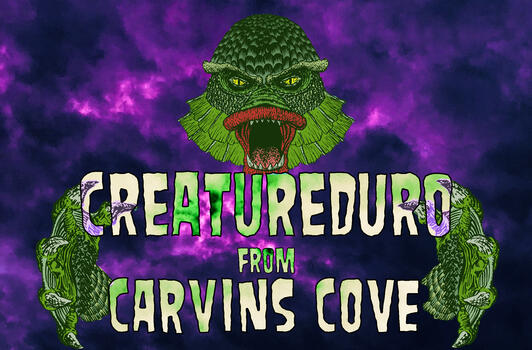 Creature from Carvins Cove Enduro
Oct 16th: 9:00 am - 1:00 pm
Oct 17th: 9:00 am - 1:00 pm

Location: Carvins Cove Nature Reserve
Ages: All Ages
---
Questions About the Event?
Event Lead: Kyle Inman
Email: eloc49@gmail.com
Phone: (540) 483-9293
presented by Virginia's Blue Ridge
Virginia's Blue Ridge Creature from Carvins Cove is a two-day mountain bike experience.
Legend has it, that long before the water of Carvins Cove flooded the farmland once known as Happy Valley, a strange and shadowy gilled creature roamed the bogs and waterways…
Now, for reasons unknown, sightings of an unusual reptilian figure have been widely reported. This fall, a brigade of endurance mountain bike racers will be sent in to investigate, exploring 40+ miles of dark backwoods while simultaneously competing for the ultimate prize: the XXC-VA state championship!
Virginia's Blue Ridge's Creature From Carvins Cove invites mountain bike racers from across the state and beyond to witness the wonders of Carvins Cove's gnarliest singletrack! Shorter option? Yes we have a 14-mile XC route.
Saturday is an enduro and Sunday is a XXC/XC race, both days are at Carvins Cove.
Enduro (Saturday at 9am): Chip timed with no start order. Hangout with your buddies and transfer at your own pace. The average rider will finish in about 4 hours. Come race enduro in the USA's second largest municipal park with over 60 miles of trails.

XXC/XC (Sunday at 9am): 16 mile and 44 mile options.