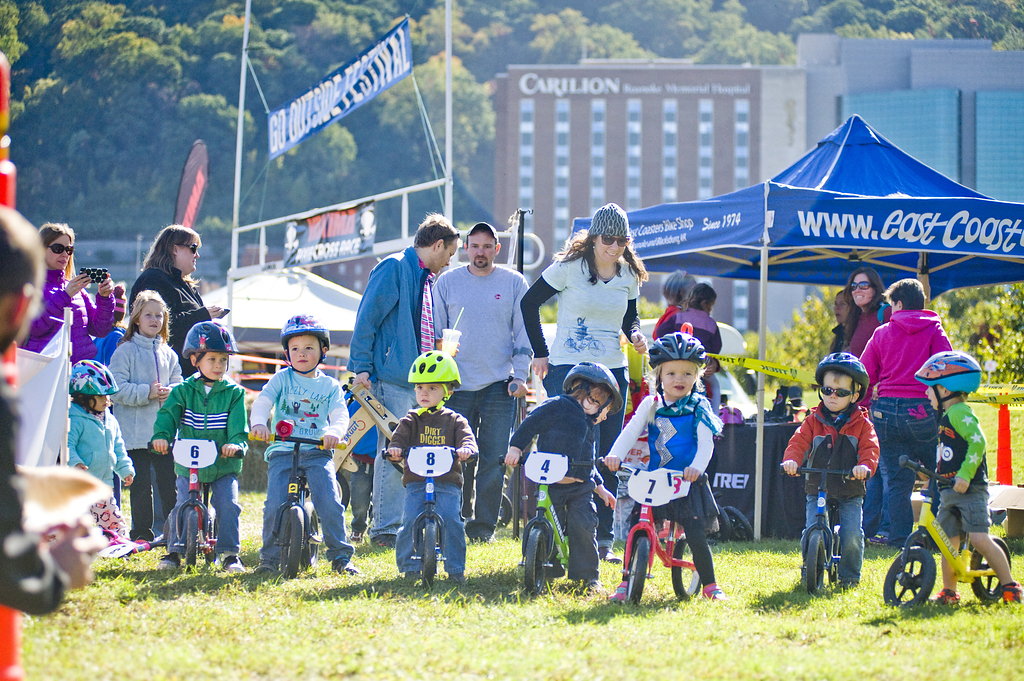 Carilion Children's GO Fest Kids Bike Race
Oct 15th: 1:30 pm - 3:00 pm
Oct 16th: 1:30 pm - 3:00 pm

Registration: Not Required
Hosted By: Visit Virginia's Blue Ridge, Carilion Children's, and Virginia's Blue Ridge Twenty24
Location: Kids Bike Demo Course area/Elmwood Park
Ages: All Ages
---
Questions About the Event?
Event Lead: Anthem GO Fest
Email: info@roanokeoutside.com
Phone: (540) 343-1550
Presented by Virginia's Blue Ridge and Virginia's Blue Ridge Twenty24
Join Carilion Children's, Visit Virginia's Blue Ridge, and Virginia's Blue Ridge Twenty24 for organized bike races for ages 2-10.  Organized races will take place Saturday and Sunday at GO Fest (October 15-16) from 1:30-3:00 pm, for ages 2-10. The age groups will be broken into two year waves, with the 2-4 year olds starting first. Registration will take place onsite 10-15 minutes prior to the start of the first race. Sign the waiver, get your bike bib and you're all set to race. Please bring your own bike and helmet. All participants will be cheered on while they navigate the simple yet exciting kids bike course in a friendly competition with other bikers to be.
This year, we're excited to have a two-time Olympian helping out with the Kids Bike Race.  Marlies Mejias will be onsite during the Kids Bike Race both days doling out high fives and lots of encouragement. Come by and say hi!
The KIDS BIKE DEMO COURSE will be open to the public during all open vendor hours at GO Fest, so even if they don't want to "race" all kids should feel welcome to bring their own bike and check it out!