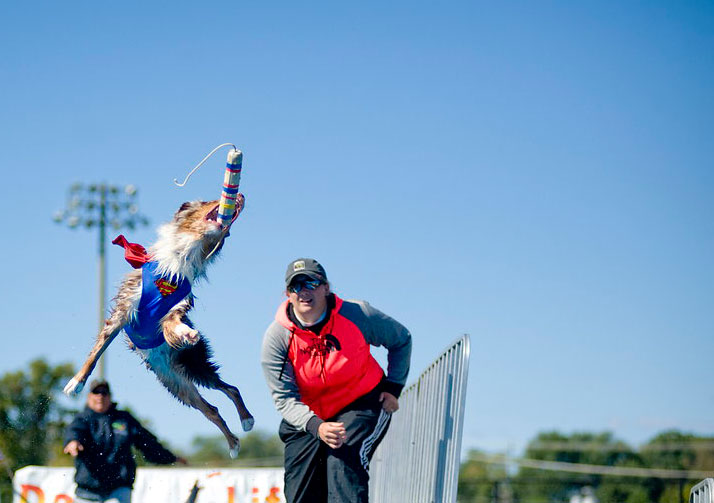 Ultimate Air Dogs Presented by Mast General Store
Oct 15th: 6:30 pm - 7:00 pm
Oct 16th: 12:00 pm - 12:30 pm
Oct 16th: 2:00 pm - 2:30 pm
Oct 16th: 4:00 pm - 4:30 pm
Oct 16th: 6:00 pm - 6:30 pm
Oct 17th: 12:00 pm - 12:30 pm
Oct 17th: 2:00 pm - 2:30 pm
Oct 17th: 4:00 pm - 4:30 pm

Registration: Not Required
Location: Near Campbell
Ages: All Ages
---
Questions About the Event?
Event Lead: Patrick Boas
Email: playroanoke@roanokeva.gov
Phone: (540) 853-2236
Just one of the many ways your pooches can enjoy GO Fest. As one of the premiere dock jumping organizations in the country, Ultimate Air Dogs is a crowd pleaser, and is voted best event at GO Fest every year.
Come see true athletes at work which trained dogs in a variety of breeds compete in events such as distance jumping, "catch it" where they have to catch a toy of their choice in mid-air, and "fetch it" where a soft bumper is suspended in mid-air and dogs must knock the bumper off its holder while jumping the furthest distance possible.
There will also be opportunities for you dogs to try it themselves! Receive some basic instruction from professional trainers, and see if your dog has what it take become an air dog. $20/dog.
Ultimate Air Dogs is made possible from support by Mast General Store.