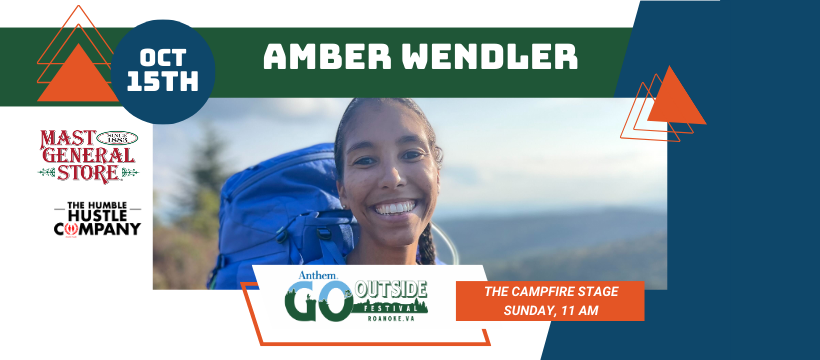 Amber Wendler, Ph.D. Candidate in Biological Sciences at Virginia Tech
Oct 15th: 11:00 am - 12:00 pm

Registration: Not Required
Hosted By: Humble Hustle
Location: Campfire Stage at the corner of Elm Ave and Jefferson Ave
Ages: All Ages
---
Questions About the Event?
Event Lead: Humble Hustle and Roanoke GO Fest
Email: info@roanokeoutside.com
Phone: (540) 655-9362
Storytelling in the Outdoors and Amplifying Voices that Have Been Silenced and Excluded
Amber Wendler kicks off the day sharing her passion for making science and the outdoors more inclusive. Wendler has a breadth of outdoor experiences from field research, outdoor education, volunteer work, and recreation that has taken her across the U.S. and Latin America. As a co-editor of the book Been Outside: Adventures of Black Women, Nonbinary, and Gender Nonconforming People in Nature, and as a runner; backpacker; birdwatcher; and kayaker, Wendler offers her perspective on storytelling in the outdoors and amplifying voices that have been silenced and excluded.