Big Ol' Outdoor Party
films, music, conversations, and dancing

GO Outside Festival has stages filled with music, films, workshops, DJs, conversations and more. And make sure you don't miss the silent disco tucked away in the Peter Pan playground wonderland. AND, it's all FREE.
---
Festival Main Stage in Elmwood Park
The Elmwood Park Amphitheater Main Stage, presented by Haley Toyota, sets the scene for an inspiring weekend with Friday's Banff Mountain Film Festival World Tour, followed by free concerts throughout Saturday and Sunday. The amphitheater is great for catching up with old friends and also a pretty sweet spot to eat some food (or bring your own picnic). Keep scrolling to see which awesome acts we've booked for 2023!
AMPHITHEATER SCHEDULE
Friday (10/13):
Saturday (10/14):
Sunday (10/15):
---
The Campfire Stage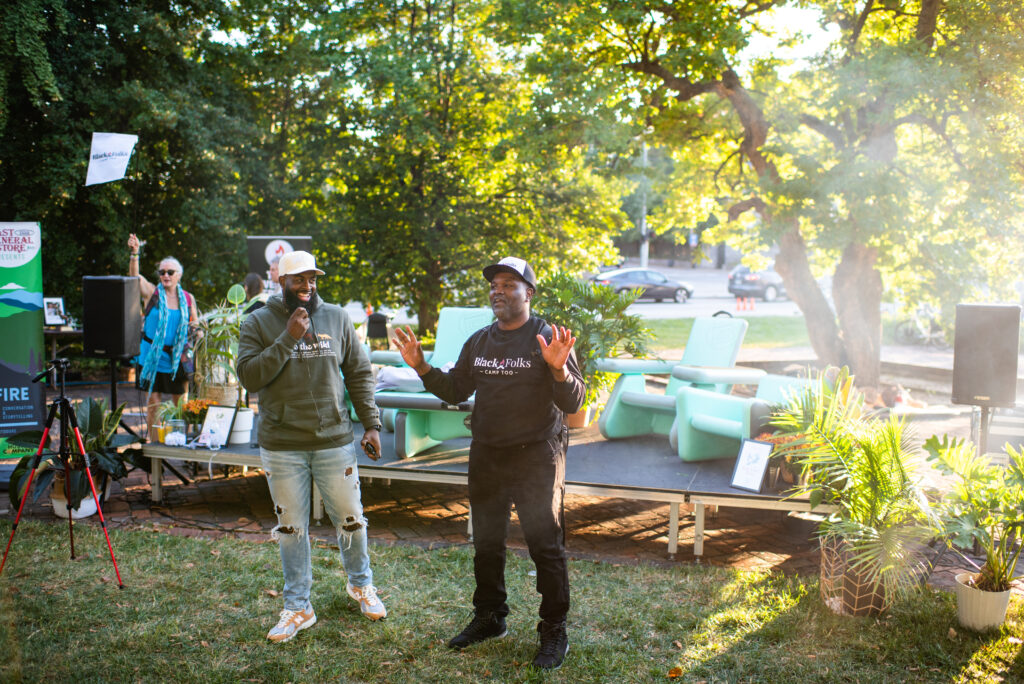 The Campfire Stage celebrates the ways conversation and storytelling guide us in our journeys through the great outdoors. Spread out your blanket on the hillside and hear from people whose mission so to make the outdoors safe and accessible to all.
FRIDAY, OCTOBER 13
5-7 PM: Leveraging the Outdoors to Attract Business & Talent lead by Pete Eshelman and Social Pop-Up (presented by Get2KnowNoke)
SATURDAY, OCTOBER 14
11 AM: Super Carlin Brothers: Pop Corn Culture Live Podcast
1:30 PM: James Gregory, The Ethnic Explorer
3 PM: Parks Director Panel Discussion featuring directors from City of Roanoke, Franklin County, and Roanoke County
4:30 PM: Asia Bright of Black Girls Hike
SUNDAY, OCTOBER 15
11 AM: Amber Wendler, Ph.D. Candidate in Biological Sciences at Virginia Tech
3 PM: Outside Magazine Get Outside Tour: Essentials for Outdoor Living
---
Silent Disco
The Silent Disco is back this year!
DJs spinning tunes to wireless headphones – it's something you just have to experience to fully understand. Bring your friends and grab a pair of headphones to join the best dance party in town.
We'll be rocking tunes in the Peter Pan playground (upper Elmwood Park overlooking the amphitheater).
Friday and Saturday nights from 9pm-11pm. Headphones are given out first-come-first-serve. Please be mindful of those waiting to get their groove on and share the love (aka headphones).
---