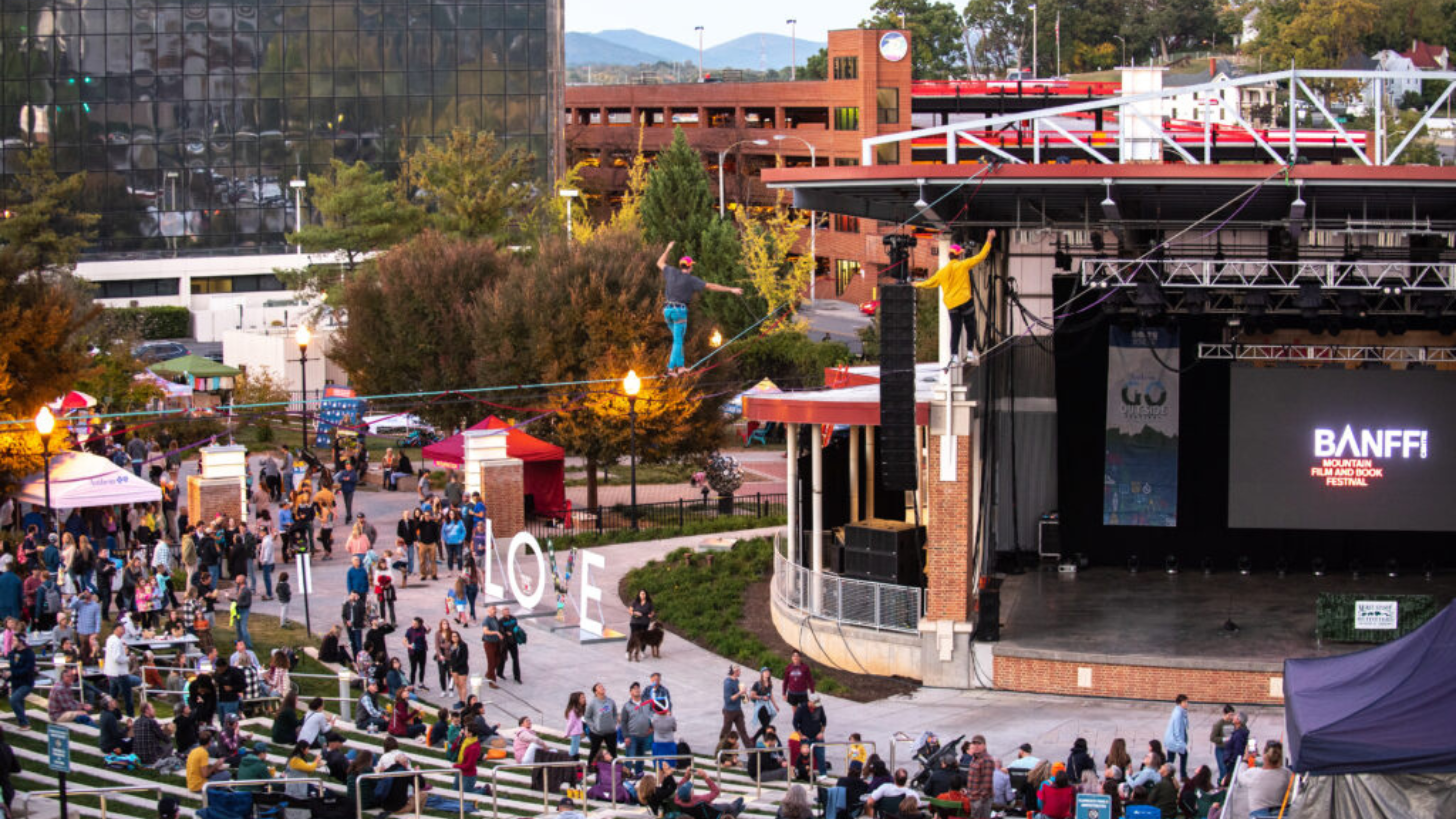 Highline Slackline Show above Elmwood Amphitheater
Oct 13th: 7:00 pm - 7:30 pm
Oct 13th: 9:00 pm - 9:30 pm
Oct 14th: 8:00 pm - 8:30 pm

Registration: Not Required
Hosted By: Roanoke Go Outside Festival
Location: Above Elmwood Amphitheater
Ages: All Ages
---
Questions About the Event?
Event Lead: Anthem GO Fest
Email: info@roanokegofest.com
Phone: (540) 343-1550
presented by Freedom First
Turn your eyes to the sky for a highline performance that only the GO Outside Festival can bring you!
The Trickline Collective is a group of slackliners passionate about balance, performance, and the outdoors. They travel the world to deliver slackline entertainment at the highest level and tell the stories of our sport. Highlining is just slacklining, but higher. Highlines can be anywhere from 20 to 400 feet above the ground, with athletes walking and performing tricks on a narrow 1-inch wide piece of webbing.
Throughout the weekend, these highline stunt performers will be balancing and bouncing high above the Elmwood Amphitheater and Holton Plaza on Franklin Road. You won't want to miss it!
Special thanks to Freedom First for helping make this happen.
Where to Watch:
Oct 13th: 7:00 pm - 7:30 pm - Above Elmwood Amphitheater

Oct 13th: 9:00 pm - 9:30 pm - Above Elmwood Amphitheater

Oct 14th: 1:00 pm - 1:30 pm - Above Holton Plaza/Franklin Rd

Oct 14th: 3:00 pm - 3:30 pm - Above Holton Plaza/Franklin Rd

Oct 14th: 5:30 pm - 6:00 pm - Above Holton Plaza/Franklin Rd

Oct 15th: 11:30 am - 12:00 pm - Above Holton Plaza/Franklin Rd

Oct 14th: 8:00 pm - 8:30 pm - Above Elmwood Amphitheater

Oct 15th: 1:00 pm - 1:30 pm - Above Holton Plaza/Franklin Rd

Oct 15th: 2:30 pm - 3:00 pm - Above Holton Plaza/Franklin Rd

Oct 15th: 4:00 pm - 4:30 pm - Above Holton Plaza/Franklin Rd